Poker Agent
As you begin building up your casino CV you might be tempted to turn your hobby into a living. This is where poker agencies come in. A poker agent exists to manage your sporting career just as a showbiz agent manages actors. In other words they maximise your earnings. Not surprisingly then, agencies have blossomed over the last ten years as poker popularity boomed.

So what do agents actually do to earn their commission? Well services will vary from agency to agency but here are some of the skills they bring to the gaming table.

Firstly, they are likely to have contacts with poker managers, getting their foot in the door of the poker room on your behalf. This also means that deals are authorised by the poker room and therefore come with a degree of protection. They can negotiate a better deal from the poker room for you. Secondly their expertise can be an invaluable learning tool. Good agents will support you face to face, giving vital feedback to improve your performance. Thirdly their links with the professional world of poker may be a big help in securing sponsorship, as again, they have the contacts. Fourthly they can take care of the administrative side of your career. Maybe you got into poker to get away from the red tape! Nevertheless, there will be phone calls, emails, business negotiations, tickets, hotel reservations, banking services and security. The perfect agent will take all these chores off your shoulders. The agent leaves you free to concentrate on the thing you love most. Playing poker to the best of your ability.

So what should you bear in mind when seeking an agency? From the outset bear in mind whether they share your goals and ambitions. It is crucial to make sure early on you are both on the same page, or should we say the same gaming table. Otherwise down the road there may be professional conflict that will undermine your plans.
Moreover, do you feel comfortable with your potential agent? You will be talking by email, phone and even in person at tournaments, so you need to cement that working relationship.

What about finances? Most reputable agents charge a commission of 10-20%. Like any business deal decide before the ink dries whether you are satisfied with percentages offered. It is a wise precaution, if you can, to make contact with their current clients and ask for their experiences. Most important of all, agree a contract with clear terms and conditions. This is the professional way to protect your career. After all, your wagers are your investments. Look after them dearly.

As the game grows, due no doubt to the success of online gaming, poker agencies have grown alongside. Although originally an American innovation, today agents are becoming a integral part of UK poker. So if poker is your passion, you might want to apply to an agent. But remember to treat it as seriously as you would a job application. Agents only make money when their clients do, so you need to convince them you are the real deal.
Flying start to 2010!

Per Hagen - CEO, Poker Icons

Annette wins the PLO event at the Aussie Millions and takes 7th in the main event! Wow, talk about getting a flying start to the year! To top things off we already negotiated 2 sponsorship deals; Alex Kamberis joins the Brunson 10 and Dragan Galic has joined Team Party! Poker Icons also won a spot on the BLUFF Power 20 list so this year looks like it's going to be a grrrrrreat one!

------------------------
Summary of 2009 - Poker Icons

Per Hagen - CEO, Poker Icons



Life as a poker agent and running a poker agency is so fast-paced that it's hard to even know where to begin this summary (or even find the time to write it). 2009 has been a very successful year for Poker Icons, and we have been lucky to be able to work with such great players and partners.

I think I'll dive right into it and list the poker sponsorship deals we have been able to put together in 2009;

Arnaud Mattern joins Pokerstars as a team pro
Thierry van den Berg joins Pokerstars as a team pro
Maria Maridu Mayrinck joins Pokerstars as a team pro
Josè Barbero joins Pokerstars as a team pro
Chris Moorman joins Doyle's Room as a member of the Brunson 10
Ramzi Jelassi joins Red Kings
Jonas Molander joins Red Kings
Ivo Donev joins Red Kings
Peter Jepsen joins Betfair
Michael Tureniec joins Full Tilt Poker
Soren Kongsgaard joins Full Tilt Poker
João Barbosa joins Full Tilt Poker
Ryan Dreyer joins Full Tilt Poker
Jacob Vedel joins Everest Poker
Matt Vengrin joins UB
Stefan Matsson joins Purple Lounge

We are quite happy with being able to have negotiated these sponsorship deals on behalf of our players.

The poker agency also signed some new very interesting players in 2009;

Layne Flack
David Sands
Jeremy Gaubert
Jeff Williams
Kathy Liebert
JJ Liu
Juha Helppi
Alex Kamberis
James Obst
Jon Van Fleet
Dragan Galic
Sam Trickett
Jay Kinkade
Neil Stewart
Neil McFayden
Greg Ronaldson
JJ Hazan

We are very proud to have been able to add these to the poker agency in addition to the other ones we are already working with!

In 2009 the players that Poker Icons represent achieved some great results whereof 3 WSOP final tables, 33 cashes and $1.4M in total winnings. Dragan Galic finished in 5th place in the EPT Grand Final event #1, Annette finished in 13th place at the EPT Grand Final main event (aces cracked), Ramzi Jelassi won the IPT Main Event, Michael Tureniec went into the Partouche Poker Tour Grand Final (€1M to the winner) as the chipleader, John Tabatabai wins the Aussie Millions heads up event, Annette Obrestad takes a 3rd place in the Late Night Poker show and a bunch of other great results also! Combined the player won over $5 million in 2009, but with a little bit of luck (no bad luck at least), it would have been much more. I think if they keep it up the variance will swing their way and we'll see many many great scores from them in 2010!

Chris Moorman finished ranked #1 in the (online) world, a spot that David Sands took from him just after 2010 started. Jon Van Fleet is currently in 5th and hot on their trails...

Arnaud Mattern and João Barbosa are ranked 10th and 11th on the EPT all time leaderboard.

Michael Tureniec is voted as Sweden's best newcomer

and

best player.

Annette Obrestad is nominated as best female player of the year.

Jesper Hougaard is nominated as player of the year with his WSOP

and

WSOPE bracelet.

Poker Icons were co-hosts at a charity event that took place in Cannes. The event was attended by Paris Hilton, Willem Dafoe, Jamie Gold and other stars.

All in all, Poker Icons and its players got 17 front covers and 1789 (according to Google) articles/interviews during 2009.

6 poker cruises have been arranged and 11 tournaments and events.

We want to thank all the players and partners for a great year, and look forward to making 2010 even better!

- Per


------------------------


Per Hagen - CEO, Poker Icons
WSOP 2009 - Big Year


Just booked our room at Wynn Encore and we look forward to be staying there.

We expect this years WSOP to be one of the best ever! Not only do we have high hopes for our 40+ own players, but we also expect to meet some interesting people and launch something exciting right after the series has "ended" (main event obv dont fininsh before October).

Anyone who feel like it can look me up for a drink and a chat..
See you there!
------------------------
Per Hagen - CEO, Poker Icons
The EPT Final and WSOP

We are approaching the EPT Final in Monte Carlo, and the event looks to have the biggest prizepool in poker's history (outside the US). Almost every Poker Icons player will be attending the EPT Final in Monte Carlo, and we would not be surprised if one of them took it home.
We just finished up the EPT in San Remo and it had a staggering 1200 players entering, giving the winner; Constant Rijkenberg almost $2 million for his efforts.
Interview with Constant Rijkenberg after winning EPT San Remo
------------------------


Per Hagen - CEO, Poker Icons
The revealing of Peter Jepsen

Peter "Zupp" Jepsen is a cool guy, so we needed a cool way of breaking the news that he's the newest member to Betfair Poker's pro team! So we announced to the media that they should all meet in the hotel lobby during the EPT in Copenhagen to see who it was. In walked Peter fully dressed in a motorcycle outfit and with a helmet on. He stood in the lobby without saying a word or showing his face for 10 minutes, before he lead the way out to a custom bus waiting outside where he finally took of his helmet and showed himself to the press. Yes it was unothorodox, but it got the attention we were looking for :)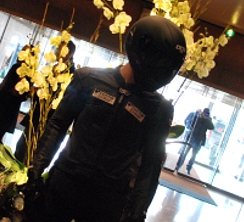 - Per


------------------------

Per Hagen - CEO, Poker Icons
After day 1a we have Albert Iversen on third place. Arnaud Mattern is also still in the game. Today, we look forward to see Annette Obrestad, Soren Kongsgaard, Michael Tureniec, Peter Jepsen, Jesper Hougaard, Stefan Mattsson, Ramzi Jelassi, Jonas Molander, Andrew Feldman and Casper Hansen in action.
One of the most exciting day 1 tables ever is probably also going to take place; Jesper Hougaard, Michael Tureniec, Annette Obrestad, Gus Hansen and Bertrand Grospellier all at the same table! An exciting table and day to follow. The action starts in a couple of minutes...
- Jonas
------------------------

Per Hagen - CEO, Poker Icons
Poker Icons Lounge preparation
We are having a
Poker Icons VIP lounge
for our players, partners and friends during the Pokerstars EPT Copenhagen, and here is a billion things to take care of for the lounge - but thank god we got people who have done it before and know the drill.
Having a poker agency lounge is something new at the EPT (thanks to the EPT organizers for allowing it), and we hope the visitors will like it.
We are sending anything from 10 to 30+ players to each EPT event and want to take care of them the best way possible. After all, being a high paid poker pro is no picnic so we can at least ease the burden by doing this No seriously, it's something we have are thrilled to do as it's a nice way of bringing together the agency, players, partners and friends...
- Per
------------------------
Per Hagen - CEO, Poker Icons
Big name joined Poker Icons!

WPT and EPT (high roller event) winner Juha Helppi from Finland just agreed to let Poker Icons represent him as his poker agency.
It wasent without fierce competition we won his signature - but we won
We really look forward to working with this fantastic player who is actually our first player from Finland (!)
It's days like this that make it worth while with all the long hours and hard work...
Now - back to shoveling snow! (this year it's a snow record where I live!)
- Per

------------------------

Per Hagen - CEO, Poker Icons
Exciting times..!
Ok, so now it's official - Poker Icons and Vegas Group have merged.
First let me give you a little background about both companies.
Vegas Group is considered as the best (poker) event organizers in Scandinavia as well as having some of Swedens finest poker players in their relatively new poker agency division. They also have a solid relationship with the Swedish poker and general media.
Poker Icons have a reputation as being the premier agency for professional poker players from all over the world. We are by far the biggest withing our niche in Europe, and we have good connections and relations with the worldwide poker media.
Ok, so here is how it all came about...
I came to talking with Lars Kollind, the CEO of Vegas Group sometime early in October 2008, and we both soon realized that we shared the same philosophy on how to do things and where we wanted to go...
It seemed like our companies had so many obvious synergies that a merge made perfect sense!
As you can imagine it's not very easy to merge 2 companies like we wanted to do, but after some friendly negotiations where we among other things, decided that Lars Kollind should be the CEO, while I take the role as President of the poker agency - here we are!
Both parties consider the merge as the birth of a true "super agency" within the industry, and we are now able to not only continue to deliver premium services to professional poker players, but also serve the partners in a very powerful 1-stop-shop way!
I don't know about you. but I am really excited!
(Oh and to top it off, we just signed a really high profiled poker player to our poker agency - more on that in the upcoming press release).
- Per