Live Tournament Poker Results


- September 2007 Sun City Million Dollar Poker Tournament:

6th


- October 2007 Poker Ace Tournament:

2nd


- January 2008 Carousel Poker Tournament:

4th


- June 2008 World Series seven card Stud Hi Low 8 or better Event:

55th


- September 2008 Sun City Million Dollar Poker Tournament:

1th

($ 650,000)
- March 2009 Place South African Poker Open:

3rd






Poker History


Ryan Only Started playing live poker tournaments in January of 2007 and has had amazing success in his short time playing live tournaments. He also made it to day 3 in the World Series of Poker Main Event in 2008. Ryan is the only Player to make it to the final table both times in the Sun City Million Dollar Poker Tournament, which is the biggest poker tournament held in Africa.

Ryan is currently ranked in 2nd position in the HendonMob rankings only trailing WSOP ME finalist Ray Rahme.

Ryan has also been playing online poker since 2006 and has been a consistent winner over the past few years. He has mainly played on the South African Poker Sites where he made numerous final tables and has been a consistent cash game winner



Golf


Ryan is also a very competent golfer. He played as a professional for 11 years, so he is no stranger to the completive environment. Ryan stopped playing professional golf in 2006 and was reinstated as an amateur in January of 2009. Since his reinstatement as an amateur, he has set the South Africa amateur golf scene alight. Ryan won the 2009 South African Amateur Championship which is the most prestigious amateur event in Africa.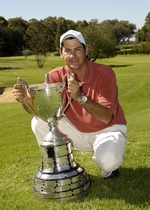 He is now Ranked #1 in the Amateur Stroke Averages and will play in the South African Open Championship in December of 2009, where he will be paired with the previous year's champion for the first 2 rounds. The SA open is a European Tour Event and will go out on television to between 20 and 50 millions of people all over the world. Ryan will also be playing in the British Amateur championship in June, to be held in Liverpool.



In the spotlight


Ryan is the Lead commentator for the All Africa Poker tournament and the All Africa Poker Channel as well as also being involved in the running of the poker channel where he does editing of poker tournaments and producing them for TV.


Ryan also started a show with 2 co-commentators called "Ask The Commentators". This show is shown regularly on the All Africa Poker channel, which is the only 24/7 poker channel in Africa. The show is aimed at educating the rapidly growing South African poker market. There has been a superb response to this show with a flurry of mails and questions being regularly received.

Ryan is often invited as a guest on a popular TV Show called betting World, hosted by one of South Africa's premier celebrities named Neil Andrews. In this TV show, Ryan is normally asked about poker and sometimes golf and to make his contributions on those fields.

As a poker player, and now too as a golfer, Ryan has found himself constantly in the spotlight, with TV appearances, invitations as a guest speaker, being on the cover of Bluff Magazine and currently there is an article in both Golf Punk Magazine And Golf Digest Magazine about how Ryan Dreyer the poker king won the South African amateur golf tournament. In all, Ryan is very high profile poker player!

Ryan Dreyer on TheHendonMob

Ryan Dreyer on Twitter


Work with Ryan Dreyer!
If you want to work with Ryan Dreyer contact us!

Poker Sponsor

Play Online Poker