History

of Cecilia Nordenstam



Cecilia was working at her local casino when she discovered her interest for texas hold'em. After having a very good start playing internetpoker Cecilia decided to quit her work and change side of the table back in 2004.

While studying psychology at the university the single mother was supporting herself and her son by playing poker online and at the local casino.

Other players recognized her skills and referred her to Swedish poker player Martin DeKnijff who was running team Martinspoker including William Thorson, Ken Lennard, Alexander Stevic and Christer Björin. After being accepted as a team member she was showing exceptional results by cashing in her first four WPT events.

Cecilia Nordenstam created a mediabuzz both in Sweden and internationally with her breakthrough.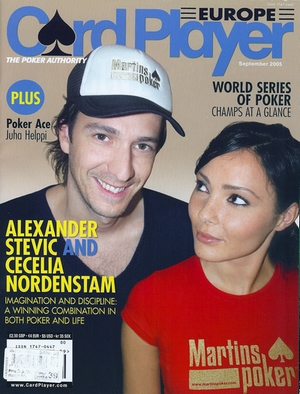 In 2006, Cecilia signed a one year deal with Svenska Spel, the goverment-owned company who runs casinos and online gambling in Sweden, as their spokesperson.

The last couple of years Cecilia has supported herself by being partner in a gambling site, writing articles on poker, commenting poker on Eurosport and modelling. In the meantime she has done private trips to WSOP and of course some online gambling.

Now when her engagement in the site is over she is very excited on re-entering the pokerstage as one of the most fierce female players.

Cecilia has showed an exceptional ability to attract media. She has been appearing in several TV-shows and news. She has also been doing a big number of interviews both in pokermedia but also other magazines.She was voted 3rd sexiest woman of Sweden by the best selling men's magazine Slitz.

Personally she is known to be fun loving, witty and intelligent.



Video clip of Cecilia Nordenstam winning the Women's World Poker Open semi-final