Sara Shalabi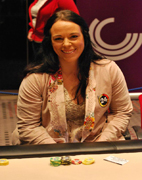 Sara Shalabi was born in Stockholm , Sweden 1979.
She is co-owner of one of Sweden's biggest and most famous Restaurant / Nightclub. Sara started to play poker in 2004 when she found the game showing on TV, and instantly fell for it. Sara is a former soccer player and now found another way to get the adrenaline pumping. Her willing to win also took her to the TV-Show Survivor where she participated in 2010, she almost made it and finished in the end at an honorable 5th place, describing it as the adventure of her life. Loving the live scene she has played numerous tournaments around the world.
Her most recent result comes from EPT Copenhagen ladies event, feb 2012 where she finished in second place.